Komubook is a Ukrainian crowd-publishing platform that aims to make classic and cult literary texts available in Ukrainian. The platform allows users to support the publication of books by contributing to fundraising campaigns, and once the fundraising is complete, the books are printed and delivered to supporters. The website features information about the books that have been published through the platform, as well as updates on the preparation and delivery of books to supporters. The platform also invites translators and book designers to submit their work for consideration. The platform was the subject of research into the Ukrainian publishing sector in 2020.
In our latest web development endeavor, we embarked on a mission to create a cutting-edge crowd-publishing platform known as Komubook. This ambitious project aimed to revolutionize the way authors and readers engage with the world of literature. Powered by a dynamic combination of PHP and MySQL, Komubook seamlessly integrates crowd-publishing with an online shop, filters for easy navigation, Liqpay payments integration, and an email subscription feature.
Crowd-Publishing Hub:
At the heart of Komubook lies a vibrant community of authors and readers. Authors can showcase their literary works and engage directly with their audience. Readers, in turn, can discover, support, and enjoy a diverse range of literary creations. The platform empowers authors to bring their stories to life and readers to be a part of the creative journey.
Robust Catalog with Filters:
Komubook boasts a meticulously organized catalog that caters to diverse literary tastes. Advanced filters and search functionality make it effortless for readers to find their next literary adventure. Whether it's by genre, author, or popularity, the catalog's design prioritizes user-friendliness.
Integrated Online Shop:
To enhance the reader's experience, Komubook seamlessly integrates an online shop where readers can purchase both digital and physical copies of books they love. The e-commerce feature is secure, user-friendly, and enhances the convenience of accessing literary treasures.
Liqpay Payments Integration:
Komubook streamlines the payment process with Liqpay integration, ensuring secure and hassle-free transactions for readers purchasing books or supporting authors. This seamless payment gateway adds to the platform's overall convenience and trustworthiness.
Email Subscription:
To keep readers and authors engaged, Komubook offers an email subscription service. Users can subscribe to receive updates about new releases, author insights, and literary events. This feature nurtures a sense of community and keeps everyone informed and connected.
User-Centric Design:
The platform's design prioritizes the user experience. It offers an intuitive and engaging journey, ensuring readers can seamlessly explore, support authors, and enjoy their literary adventures. Komubook is also responsive, catering to users across various devices.
Data-Driven Insights:
To enhance the platform further, Komubook incorporates tools for gathering data insights. These analytics provide valuable information about user behavior, popular genres, and reader preferences, enabling continuous improvement.
Efficiency and Speed:
Komubook sets a high standard for efficiency and speed with the implementation of Progressive Web App (PWA) features and efficient caching techniques. This ensures that users enjoy fast loading times and a smooth, uninterrupted experience.
This project is a testament to our dedication to enhancing the world of literature, delivering an exceptional user journey, and setting new standards in modern web design for crowd-publishing platforms. Komubook stands as a milestone in our relentless pursuit of innovation and excellence, redefining how authors and readers connect and collaborate in the world of literature.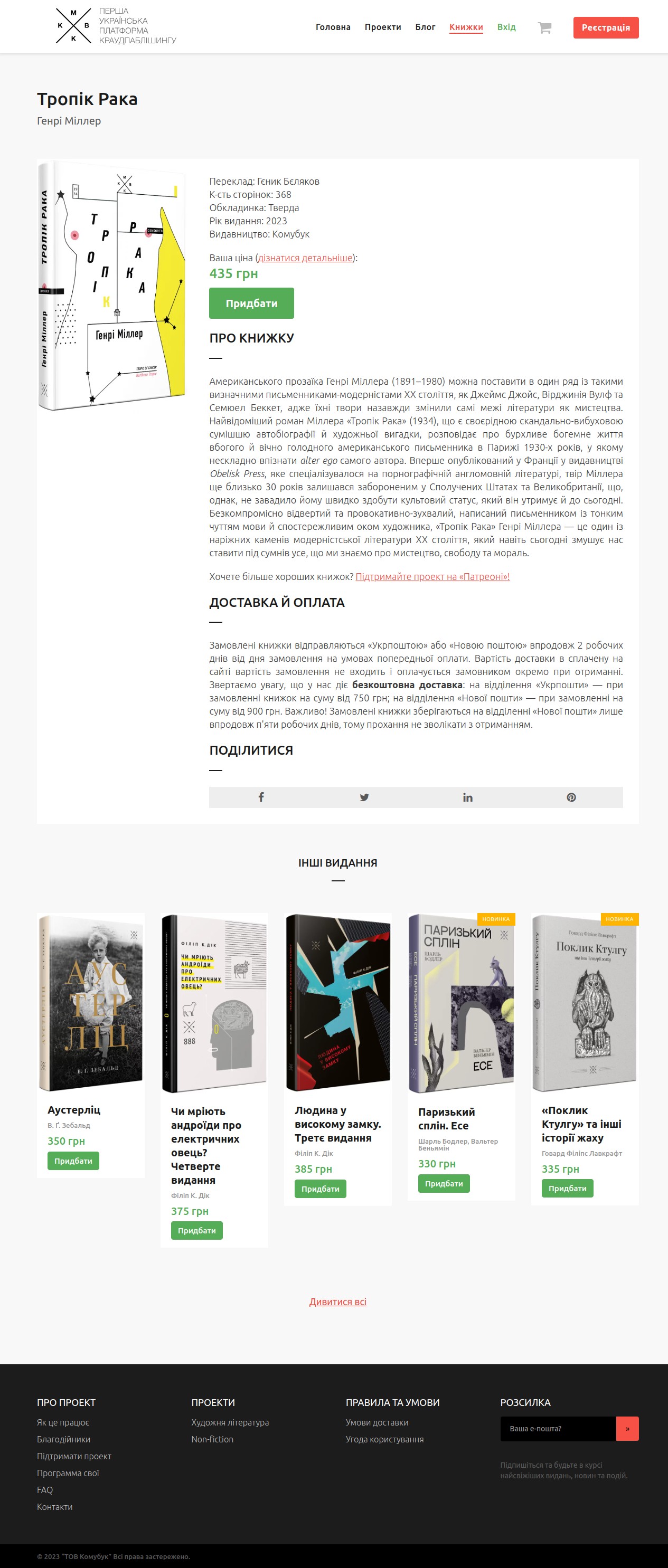 [[ VIDGET_TEXT ]]
Take a look at these projects
Our projects are not a faceless wordpress websites. Every website designed for spesific business niche, great
user experience
, maximum
speed
and Google
SEO optimization
.